At Coast Electric, you are more than just a customer who receives electric service. You are a consumer and a member of our cooperative. We were built by and are led by members just like you. For our business to function properly, we need your participation. We want you to be active members who attend meetings and give us feedback about your cooperative. When you talk, we listen. For us, serving you is about providing affordable, reliable electric service but it's also much more. It's making decisions that are best for you. It's giving back to the communities we serve.
It's about improving life for you.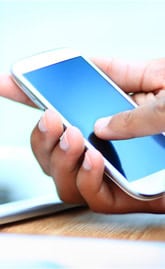 The easy way to manage your account, report outages and more.
Today, people are on the go more than ever. That's why we've developed CE on the Go, a free mobile app designed to give you fast, secure account access and make it easier than ever to report and track power outages.
Sharing Success in
Our Community
With Operation Round Up, members are using their spare change to make a big difference. Each month, participating members' bills are rounded up to the next dollar amount. Donations fund grants of up to $10,000 for deserving charitable organizations in our community. A portion of donations also fund our Share Your Blessings energy assistance program to help your friends and neighbors in need.
Interactive Tools to Help
You Save
Learn how you can manage energy use in your home with our interactive, digital energy audit. This assessment can help you identify ways to save on your energy costs.
Coast Electric members who avoid using energy in peak hours can save on their monthly energy costs. Our Time of Use rate gives you the power to control your energy costs and save!
FOR RESIDENTIAL | FOR BUSINESS
Superior Service and Dependable Energy.
At the Lowest Possible Price.
Each year, Coast Electric ranks as one of the top utilities in the nation for providing reliable electric service. Reliable service doesn't only mean fewer outages for shorter periods of time, it means having highly-skilled employees you can depend on when the power does go out. It means having a team of people working for you to balance reliability, service and cost.
Because we aren't just the people who work here - we are your neighbors, your friends, and we are members, too.